Miss AuSable River Festival
July 29th 11am AuSable Main Stage
The Miss AuSable River Festival Endowment program is a scholarship-focused pageant intended to empower young women ages 15-20 in Crawford County. The pageant and crowning of the new titleholder will take place on Saturday, July 29, from 11-12:30 pm on the Main Stage  at Michigan Avenue & Peninsular in downtown Grayling during the AuSable River Festival.
Contestants will be adjudicated in various facets, including community serve & engagement, private interview, on stage presentation, and poise & presence. The court will be adjudicated by secret panels throughout the week of the AuSable River Festival and during activities with the AuSable River Canoe Marathon, in a private interview, and in an on-stage competition. Eligible contestants include young women who live, work, or go to school in Crawford County who will be between the ages of 15-20 at the time of Labor Day of 2023.
The organizing committee has developed a mission to support the growth and empowerment of young women in the area with a reminiscence to former pageant competitions that took place in Grayling, specifically Miss Grayling and Junior Miss.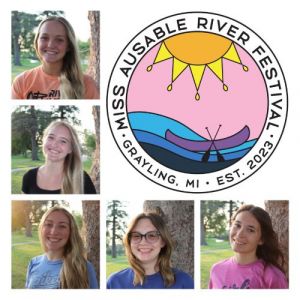 Miss AuSable River Festival 2023 Contestants
Brittlynn Elliott
Grayling High School
17 years old
Madalynn Elliott
University of Michigan
18 years old 
Alyssa Huber
Grayling High School
17 years old
Karlie Smith
Grayling High School
16 years old
Kylie Tuck
Grayling High School
17 years old